FRANK G. BREWER
November 4, 1892 – May 10, 1957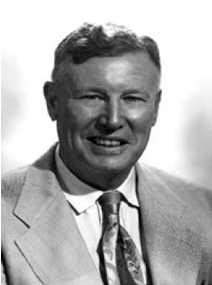 A native of Shelby County, Alabama, he was born near the present town of Alabaster on November 4, 1892 as a son of Washington and Mary Jane (Coates) Brewer. He received his education in the public schools and Howard College of Birmingham.

In 1928, be became co-owner of Alabama Highway Express, Inc., a firm that grew from two trucks to 200 operating in twelve states, employing 400 people and serving every major city east of the Mississippi River. Mr. Brewer sold his interest in this firm in 1950, but he continued his active role in community life.

During his long career, he served as President of the Alabama Trucking Association and the Birmingham Motor Truck Club. He was also a member of Civitan International, Birmingham Aero Club and the National Aeronautic Association. He was a director of the Spastic Aid Society of Alabama, of Goodwill Industries and of the Birmingham Sunday School Council. He was a member of East Lake Methodist Church where he was a steward and a member of the Liles Brotherhood Class.

Mr. Brewer will be remembered as a civic worker, a church worker and an all-around good citizen. Most of all, he will be remembered as the founder of the Brewer Trophy "in honor of his two sons and the million and a half American youth put into the air in World War II." National Aeronautics Association awards a replica of the trophy annually. The original trophy is on permanent display at the National Air and Space Museum in Washington, D.C. He envisioned the importance of aerospace education and contributed to its advancement during his lifetime.
FRANK G. BREWER, JR
October 4, 1917 - July 7, 2010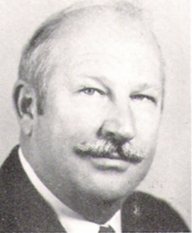 Like his father, he has not only been a successful businessman but also a church and civic leader and an enthusiastic supporter of youth in aerospace education. Mr. Brewer was born in 1917, raised and educated in Birmingham, Alabama, the city, which he still calls home. Following his graduation from Alabama Polytechnic Institute (now Auburn University) in 1940 with a degree in Electrical Engineering, Mr. Brewer was drafted March 10, 1942 and entered the U.S. Army Air Corps at Fort McPherson, Georgia. From 1943 to 1945 he served with the Eighth and Ninth Air Forces in Europe as a lead radio operator on
Martin B26 Marauder bombers
from England and France. During his 69 combat missions, he was awarded two Distinguished Flying Crosses and eleven Air Medals.
Following World War II, he returned to Birmingham and became Vice President and part owner of Alabama Highway Express, Inc. He also served as President of Brewer Enterprises, Inc., before becoming Vice President and General Manager of Dixie Electrical Manufacturing Company in 1961. In 1964, Mr. Brewer became President of this firm, and subsequently, President and Chairman of the Board. Semi-retired in 1984, Mr. Brewer is a financial consultant and investment counselor and actively directs personal investments.
Mr. Brewer was a co-founder of the
B26 Marauder Historical Society
and its second president. He was one of the founders of the Alabama Chapter of the
Eighth Air Force Historical Society
and has been a continuous participant in its affairs.
On March 27, 1958 Mr. Brewer joined Civil Air Patrol as a 2d Lieutenant. Since that time he has served the Alabama Wing of CAP as Deputy for Cadets, Inspector, Deputy Commander, Interim Commander, and is currently assigned to Alabama Wing Headquarters. He was promoted to Colonel and awarded the Civil Air Patrol Distinguished Service Medal on November 15, 2003.
In 2006, Brewer felt there was more to be done, and began motions to form a corporation "to promote Aviation Education through the Brewer Trophy and support the NAA, the Smithsonian Institution, and other organizations in enhancing the promotion and growth of Aviation Education". The Brewer Trophy Aviation Education Association was formally incorporated on May 8, 2007 and became an NAA Affiliate on June 6, 2007.
At the age of 89, Mr. Brewer participated in the 2007 Brewer Trophy Selection Committee. This meeting marked the 50th anniversary of passing of his father, Frank Sr. and was attended by six (6) past Brewer Trophy recipients and other industry and aviation education organization representatives.
On September 9th 2008 Mr. Brewer was awarded The Wesley L. McDonald Elder Statesman of Aviation Award by The National Aeronautic Association (NAA). He attended the presentation at the NAA Fall Awards Banquet on November 3rd in Arlington, Virginia.
The citation noted his "lifetime of statesmanship and dedication and contributions of significant value to aeronautics."
The Elder Statesman awards were established in 1954 to honor outstanding Americans, who, by their efforts over a period of years, have made contributions of significant value to aeronautics, and have reflected credit upon America and themselves. Previous winners have included Eddie Rickenbacker, Jimmy Doolittle, Scott Crossfield and Chuck Yeager.